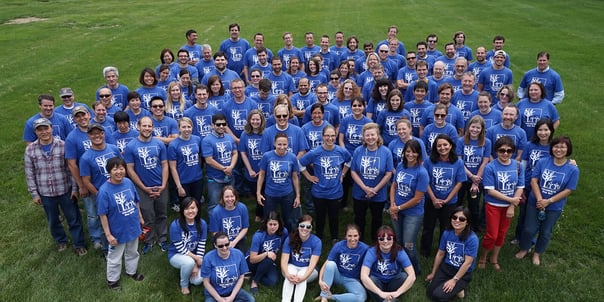 Most people who have volunteered will agree that giving back to the community can make you feel good. But beyond the mental health benefits, recent studies have found that spending time helping others may also be good for your body. In an article published in Psychology and Aging, researchers from Carnegie Mellon found that there is an association between regular volunteer work and a decreased risk for high blood pressure in adults over 50 (Harvard Health Blog). This may be due to an overall more active lifestyle, or a result of the decrease in stress that many people experience while volunteering; either way, people who offer their time regularly seem to get back almost as much as they give.
Despite the many rewards volunteering has to offer, most working adults feel that they just don't have the time to spare. This is one reason that Cell Signaling Technology began its Employee Volunteer Program (EVP) earlier this year (another reason is to become more personally involved with some of the beneficiaries of CST's Small Grants Program). With the mantra of "signaling our commitment to the community," employees from across the organization were inspired to come together in support of local, national and global communities. The EVP was announced in January of 2015 with a goal to have more than 100 volunteers. As of publication, we have doubled that number with over 200 employees utilizing designated "volunteer hours," which is more than a third of our U.S. employees. CST's VP of Product Development is challenging her team to achieve 100% participation in the program and helped kick off recent department-wide volunteer days.
"CST is a family-owned and family-oriented company that operates with tremendous integrity. To us, that means taking care of our customers, our employees, and the world we live in. The Product Development team's recent volunteer days were a natural embodiment of that philosophy -- spending time giving back to our communities, building stronger relationships as a team, and hopefully having some fun along the way." - Dawn Mattoon, Ph.D., VP Product Development
Coming together in support of this mission has engaged employees and served as an invaluable team-building exercise. The Small Grants Program, run by CST employees, often supports the same local nonprofit organizations that employees volunteer for, realizing employee engagement at it's best.Employee volunteerism also helps to continue our mission to support conservation efforts and social organizations in the surrounding communities. Some groups ventured out to nearby coastal locations to clean up waste and remove invasive plant species. One group handmade over 550 greeting cards, which will be sold to raise money for Hope for our Sisters, an organization committed to raising awareness of fistula (a painful medical condition caused by obstructed labor or trauma) and providing support for women and girls who suffer from it. Another group held a barbeque at a senior residence community where they learned the "real way" to play bocce (we can't give away their secrets, but a few of the ladies were absolute pros!).
The benefits for our team are twofold- we have the opportunity to give back to the communities we belong to and we just might be supporting our own health along the way. But what did the community think of our recent volunteer days?
"This is the best barbeque we've ever had!" - Resident, Turtle Creek Retirement Community
"So thankful for the [volunteers from] Cell Signaling Technology, Inc.! 11 CST employees… made over 550 cards! When sold, these cards will fund four fistula surgeries and prevention education and empowerment training! So thankful!" - Brooke, Hope for Our Sisters
"I wanted you to know all of the wonderful donations from Cell Signaling were distributed to our two shelters this morning and received by our staff with open arms! Thank you again for organizing this drive and happy trails!! - Mary, Wellspring House
Ready to get involved? We recommend picking a topic you are interested in (perhaps science?) and finding an activity related to that topic (such as tutoring underprivileged youth in STEM). You can also try a volunteering website like www.volunteermatch.org that will help match you to local volunteer opportunities in your area of interest.
Learn More about Corporate Social Responsibility at CST