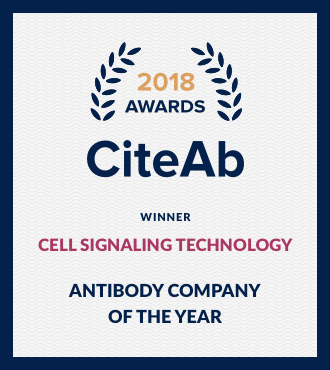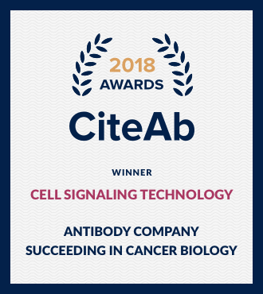 We as scientists learn from each success and failure. Sometimes it takes many failures to achieve success. And some discoveries are made with no fanfare, far from the spotlight. Other times, a good day's work is even sweeter when you realize someone noticed!
The 2018 CiteAb Award results are in, and all of us at CST are thrilled to be named Antibody Company of the Year and Antibody Company Succeeding in Cancer Biology by CiteAb. Dr. Andrew Chalmers, Founder of CiteAb, said, "Cell Signaling Technology should be proud to be supporting more cancer researchers than any other supplier."
Knowing that CST's team of Ph.D. scientists developed 47% of the top 100 cited antibodies in 2017 is an accomplishment that fills us with pride. We don't source every possible antibody product or sell products that we have little, if any, knowledge as to whether or not they work. Instead, we focus on producing products in-house so that we can rigorously validate them to ensure they will work as expected. Dr. Andrew Chalmers said, "This is an esteemed award that recognizes CST as the most successful antibody based on our data from CiteAb. This is no small feat and a direct result of the company offering a large number of products that help researchers make novel findings. This would not have been possible without a huge amount of effort from everybody at CST. We wholeheartedly congratulate CST on their achievements."
We're also thrilled to be honored in the categories Chemical Probes Supplier to Watch and Antibody Company with Sustained Success in China.
Thank you to CiteAb and all of our incredible customers!