Reggie Prioli, Associate Director of Conjugation at Cell Signaling Technology® (CST®), has been conjugating antibodies at CST since 2001. Let's find out why!
Hi Reggie, thanks for taking the time to chat with us today! Can you first tell us a little about yourself?
Of course! So I was born in Brazil and began riding horses starting at a very young age. For most of my childhood and until I finished college, ranching was my vocation. I wanted to be a cowboy! However, I was disappointed with my knowledge level when I graduated college so I left Brazil and went to England to get my Ph.D. in microbiology. Why England? Because 99.9% of Brazilians went to the US and I wanted to do something different. But I didn't want to return to Brazil after finishing my Ph.D. without ever going to the US, so I came here for my postdoc, worked for a few different companies, and finally joined CST in 2001.
Is there a reason why you picked science?
Because science and biochemistry is life itself! You see life happening, you know? It's amazing! It is the best ever. It challenges me in a way that I don't think anything else would do.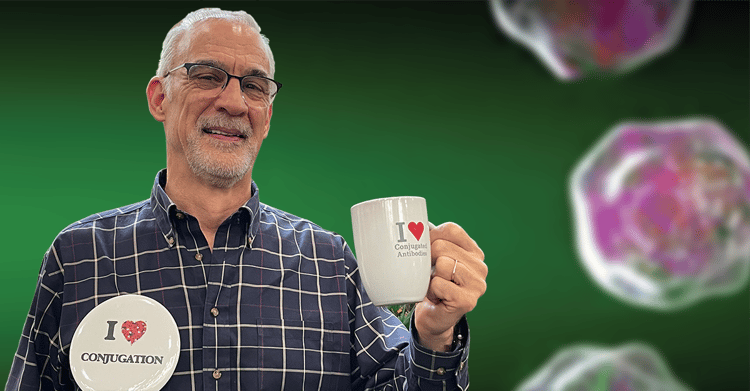 How did you end up conjugating antibodies at CST?
I started conjugating primary antibodies back in 2001 as part of the cytometry group. I think phospho-ERK was the first one. Then, we realized having a dedicated group made sense so we established the conjugation group in earnest in January 2008.
You say all the time you love conjugation. What is it that you love?
What is there not to love about conjugation? It allows you to do things that you wouldn't be able to do if you didn't have directly conjugated antibodies. For example, you can do single-cell analysis by flow and use directly conjugated antibodies against different cell markers to isolate a specific cell population. You can also get a nice visual understanding of everything going on at one time in a cell or tissue with a multi-colored, multiplex image. At some point, you'll be limited if you're multiplexing with unconjugated antibodies because you can only select antibodies raised in different species. Plus, using unconjugated antibodies requires an extra step since you need to use a secondary antibody.
On a personal level, why do I love it? Because it's extremely challenging. I got hooked because it's challenging and very, very dynamic. From a science perspective, we are always doing different things, it's not routine. There are different needs for all the chemistries and customers come to us with different needs. And as a group, we are always thinking of ways we can grow and better ourselves. Thinking of workflow improvements so we can keep up with the demand. It's very stimulating and keeps us on our toes.
Plus, when we interact with customers and explain how we do things here at CST, the way we operate to make sure we're delivering the best off-the-shelf antibody conjugations, you just have a feeling that people get it. They are pleasantly surprised to learn what we do to make sure the antibodies are working properly, and really appreciate our level of intensity and understanding of validation requirements – that conjugation is a lot more than just taking a dye and antibody and putting them together.
You mentioned delivering the best off-the-shelf antibody conjugations. What makes our conjugations so special? What's the special sauce?
Well, quality is number one, right? The reason for our existence here at CST is to put out quality products. Everything we do is geared towards that. So we have extremely stringent acceptance criteria to ensure the antibody conjugation will work reproducibly for everyone who buys them, even if they are using them differently, with different applications.
The quality standards we have here constantly amaze me. We test many clones when developing an antibody and if they don't meet our criteria then we won't put them on the customer's bench. So attrition is high, reducing the number of products we approve for release. That is just part of the CST culture, which is good because it is that type of attitude that has granted us the reputation we have for quality. Only release the best, don't cut corners.
Finally, and not everybody realizes this, we take a lot of time to make sure what customers receive is just conjugated antibody. When you develop an antibody conjugate, there are 3 entities: the antibody, the linker, the label. When conjugating a fluorophore to an antibody you typically need to add molar excess of dye, especially if it's a small molecule like Alexa Fluor® dyes, because of how reaction kinetics work. It is very important to us that we are getting rid of the excess dye after the conjugation reaction. Likewise, depending on the chemistry, depending on the dye, reactions don't actually go to 100% completion, right? So we also spend a lot of time eliminating the unconjugated antibody as well. We go to great lengths to ensure customers aren't getting a mixture of excess dye or unconjugated antibody – that what we are giving them is just the conjugated antibody.
You mentioned the CST culture. As someone who has worked here for over 20 years, why do you think CST is a different kind of company?
Well, the work speaks for itself, right? If the work wasn't challenging, I wouldn't have lasted this long. But in my particular case, there's a personal side of it, too. I really admire the way the owners of the company, the Comb family, run the company. The commitment to quality really started with the Comb family. I also appreciate their focus on the environment. They don't just talk, they do, ensuring the company is taking action with initiatives like solar power, green space and wildlife preservation, waste reduction, and more. I think it's great how they are so engaged with protecting the environment. It's something that especially resonates with me. CST really is a unique place.
Then, there's also my boss – I thank him quite a bit because as long as I'm delivering, he gives me the freedom to make sure we continue to produce.
What is something you're proud of from your 21 years at CST?
One thing I'm proud of is the low turnover rate in the conjugation group. People who have been with us for decades, for years and years and years. People don't actually leave the group that often. And the ones who do leave usually go because their career changes or they get a great opportunity. I'm very proud when I get unsolicited feedback about people who have left, how well they are doing in their jobs. That's rewarding to me. My role here is to support my team to succeed. That's all. If I do that, everybody's going to be great.
Learn more about the Antibody Conjugates Reggie and his team have developed to support your next discovery.
Need a custom antibody conjugation? We can conjugate it for you!
We're hiring! Are you looking to make a change? Visit our career page to view open positions.