Last month marked the annual American Association for Cancer Research (AACR 2023) meeting, which gathered close to 22,000 laboratory scientists and clinical investigators specializing in all aspects of cancer research. There was a significant amount of research presented with potentially transformative breakthroughs, demonstrating just how far the field has come in recent years.
Cancer immunology remained a key focus, with numerous presentations and posters at the show highlighting remarkable advances in our understanding of the diversity of roles played by the immune system in cancer development or treatment. Immunotherapy modalities in the spotlight at the show included bispecific antibodies, BiTEs, chimeric antigen receptor (CAR) T cells, and neoantigen-specific TCR-Ts. According to Amrik Singh, Fellow, CST Immunology Product Design & Strategy, "The increasing number of treatment modalities targeting different antigens, combined with the power of gene-editing technologies and synthetic biology, will provide more opportunities to successfully attack cancer types that have remained elusive to therapeutic intervention."

The CST booth at AACR 2023.
Of additional prominence at the show were the increasingly sophisticated tools and techniques used by oncology researchers. "Spatial biology was definitely big, and it was obvious that this was an area of interest for attendees," said Paulina Leung-Lee, CST Cell Biology Principal Product Marketing Manager. "Nearly every talk about spatial biology platforms was a packed house."
Advances in leveraging machine learning and artificial intelligence to understand the complexities of cancer were also prevalent, not just for the interpretation of single-cell and spatial data, but also as a way to enable personalized medicine. Novel technologies designed to interpret increasingly large datasets from preclinical and clinical studies are facilitating the development of novel targeted therapies engineered to respond based on a patient's unique biology.
"The ability to exquisitely engineer therapies using the ever-expanding knowledge base of biological and biochemical information makes the future prospects for targeted therapy incredibly promising," said Antony Wood, Senior Director, Product Design & Strategy. "Personalized approaches based on a patient's biology are becoming a reality."
One of the most notable examples of personalized medicine was the presentation of positive data for personalized mRNA vaccines for melanoma by Moderna and Merck & Co. These exciting novel vaccines targeted neoantigens arising from individual tumor mutations as opposed to tumor-associated targets that can also be present in healthy tissue. When combined with Merck's immunotherapy checkpoint inhibitor, Keytruda, the mRNA vaccine reduced the risk of recurrence or death by 44%.
"However, cancers remain enormously successful at evolving resistance mechanisms in response to therapies," continues Antony. "While the development of personalized therapeutics remains an exciting and promising treatment avenue, overcoming resistance will remain an enormous challenge going forward."
Advances in targeting the KRAS signaling pathway were also prevalent, with the show's opening session devoted entirely to exploring recent breakthroughs in targeting mutant KRAS tumors. While there has been remarkable progress in this area, it is abundantly clear that further research is needed before we can claim widespread, durable responses. Multiple approaches that factor in the interaction between a tumor and its highly dynamic microenvironment are advancing, but in many respects, we are still in our infancy in understanding these interactions.
To parse through the wealth of information presented at the show, we asked CST scientists to share an overview of the trends and talks they found interesting and the areas they're most excited about for the future of cancer therapies.
AACR 2023: Key Trends, Talks, and Topics
CAR-T Cells & the Future of Cancer Immunotherapy
Amrik Singh, Fellow, Immunology Product Design & Strategy
"At AACR 2023, there was a continued intense focus on leveraging the power of CAR-engineered immune cells to attack multiple types of solid tumors. A combination of different cellular platforms including natural killer (NK) cells and macrophages with synthetic biology and gene editing technologies, are being used to engineer immune cells that are more durable and capable of overriding the immune-suppressive tumor microenvironment.
In the presentation "The Unlikely Development of CAR-T Cells," Dr Carl June, a pioneer in the development of CAR-T cell therapy, discussed a novel approach to target multiple types of blood cancers using a single CAR construct. The June Lab at the University of Pennsylvania is working to generate CAR-T cells targeting the CD45 surface antigen, which is expressed on all hematopoietic cells except for platelets and red blood cells. CD45 expression is also maintained in hematological malignancies observed in the clinic. Applying gene editing techniques to the anti-CD45 CAR-T cells, the June Lab deleted the epitope within the CD45 extracellular domain recognized by the CAR scFv to prevent CAR-T cell fratricide, while still preserving CD45 function. In addition, they deleted the same epitope within CD45 in the patient hematopoietic stem cell (HSC) compartment.
Administration of gene-edited anti-CD45 CAR-T cells and gene-edited HSCs allows for the eradication of CD45+ blood cancers, which will express wild-type CD45, while allowing the patient to establish a new hematopoietic cell compartment resistant to attack by CAR-T cells."
Rethinking the Structural Features of Druggable Proteins
Antony Wood, Senior Director, Product Design & Strategy
"Classic protein modeling methods such as crystallography suggest that only about 15% of proteins contain structural features, typically deep pockets, that are effectively druggable with small molecules. This suggests that any new disease protein identified has an 85% chance of being labeled as undruggable. However, using biophysical data coupled with computer simulations and machine learning approaches that account for the highly dynamic nature of protein behaviors, Dr Greg Bowman from the Perelman School of Medicine at the University of Pennsylvania demonstrated that many proteins contain so-called "cryptic pockets" that are invisible by traditional protein structure analyses, but which are candidates for small-molecule targeting. In the plenary session talk "What if all your favorite proteins are druggable?" Dr Bowman demonstrated proof-of-principle for this concept for multiple disease-associated proteins. He furthermore described a global open-source neural network, PocketMiner, focused on computational identification of cryptic pockets. Their data suggest the existence of cryptic pockets in up to 50% of proteins previously thought to be undruggable.
The ramifications of this finding are potentially groundbreaking and could dramatically expand the breadth of the druggable proteome. "
New Technology in Tumor-Specific Drug Delivery
Jing Li, Senior Scientist, Cell Biology Group
"There was a focus on new technology for tumor-specific drug delivery at AACR 2023 that I was particularly excited about and that I believe will have an impact on the future of cancer treatments. Two talks on this stood out to me at the show.
The first, "New Concepts in Drug Discovery and Engineering," was presented by Dr Jennifer, Cochran of Stanford University and discussed a peptide-based drug delivery system. Dr Cochran's novel approach used the polyspecific integrin-binding peptide (PIP), a tumor-associated integrin that is known to bind to tumors in vivo. The PIP-drug conjugate is a small molecule and is a promising delivery method because it can easily penetrate a tumor mass for delivery. In the mouse model presented, treatment with PIP-CpG (TLR9 agonist) changed the tumor microenvironment (TME) from a tumor protumor to an anit-tumor TME.
A second example was presented by Dr Andrea Kasinski, Purdue University where a small molecule was used to deliver chemically modified miRNA into a cell. Using engineered miRNA, Dr Kansinkri was able to solve the typically short lifetime of miRNA. The example Dr Kaninski presented was folate-conjugated miRNA-Fola-FM-miR34, which showed promising results in her mouse model. One advantage of the small molecule-modified miRNA is that it can be directed at multiple cancer-specific targets at the same time due to the nature of existing miRNA, which are usually multi-target specific."
Chromatin Mutations and the Epigenetic Treatment Landscape
Angela Guo, CST Scientist, EpiApps
"Mutations and fusions of chromatin proteins are often key drivers of childhood cancers such as leukemia and gliomas. It is critical that we continue to make advances in both basic and translational work to provide better options for these children and young adults.
One such potential target is eleven-nineteen leukemia (ENL), a histone acyl-transferase that is often involved in transcriptional regulation through interactions with RNA Polymerase II and the elongation machinery. In various cancers, particularly leukemias, ENL is a common fusion partner for the histone methyltransferase mixed-lineage leukemia (MLL), generating an oncogenic fusion protein critical during leukemogenesis. During the talk "Reading the Epigenetic Landscape: New Mechanisms and Therapeutic Opportunities," Dr Liling Wan showed a potent and orally bioavailable ENL inhibitor that displaces it from chromatin, drives cell differentiation, and extends survival in mouse leukemia models. This is an important development for patients who have ENL-driven leukemia and currently rely on radiation and bone-marrow transplants. Perhaps this new compound can be a viable option for these patients in the future.
Dr Wan also showed some incredible gain-of-function data surrounding mutations in ENL caused by small insertions or deletions found in patients. These mutations result in a slight extension of a beta-sheet in ENL, allowing it to form functional condensates on specific genes, driving oncogenesis. The expression of this ENL mutant in mice is enough to drive leukemogenesis. Critically, she also showed that overexpression of mutagenic ENL above endogenous levels results in non-functional condensates. The oncogenic role of condensate formation and regulation is worth further exploration."
Cell Signaling Technology Posters, Presentation at AACR 2023
AACR 2023 was big for CST as well. Five posters were accepted by the AACR Program Committee, highlighting the transformative work by our scientists to advance cancer research. These posters were presented in AACR sessions spanning Adoptive Cell Therapy, Kinase Signaling, Molecular/Cellular Biology and Genetics, and Tumor Biology. One of the posters, A Multiscale Approach to Quantitatively Evaluate the SMAD Signaling Pathway, was featured as an Exhibitor Theater Talk and co-presented with Agilent Technologies.
You can view the posters and watch the presentation recording below.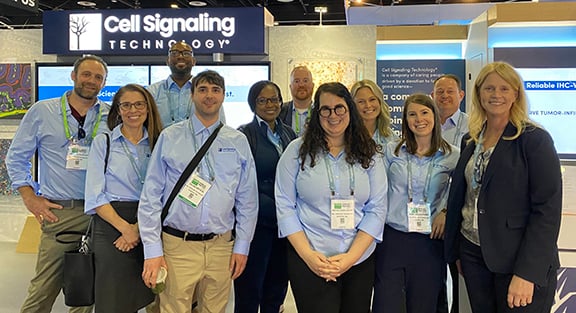 The team at CST's booth at AACR 2023.
Each year at AACR, CiteAb recognizes life science organizations in the research reagent sector worldwide with awards for outstanding achievements based, in part, on the number of product citations in scientific journals across various categories. The CiteAb Awards celebrate innovation in different therapeutic categories and are often used as a barometer for product quality, impact, and people. CST was recognized in three categories this year.
The Innovation Award: CST was awarded this year's Innovation Award for the development of our

first-to-market anti-CAR linker antibodies

—versatile detection reagents that identify and confirm CAR surface expression regardless of antigen specificity. These antibodies are a powerful tool to facilitate, accelerate, and standardize cell therapy research and development by eliminating the lengthy and expensive process of designing specific reagents to target individual CAR surface receptors.
Post Translational Modification Antibody Supplier of the Year: This award was brought back in 2023 to celebrate organizations with the most post-translational modification antibody citations.
Antibody Supplier of the Year: CST was Highly Commended in this category based on the high number of citations received for its antibody products.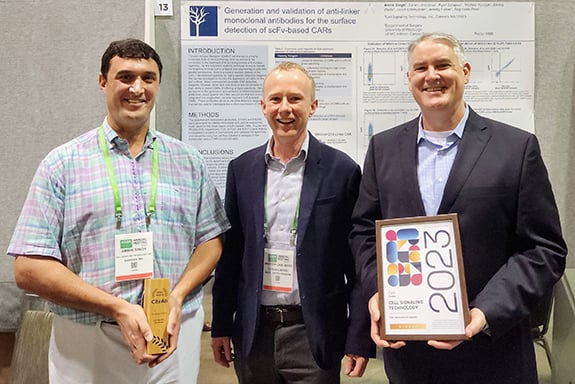 From left to right: Amrik Singh, Fellow, Immunology Product Design & Strategy, CST; Andrew Chalmers, CEO, CiteAb; Darcy Birse, CCO, CST.
AACR 2023 CST Posters & Presentations
Interested in learning more about any of our posters or presentations from AACR? Reach out to us, we'd love to connect!
23-CAN-05950