If you've ever transitioned your IHC experiments from a manual protocol to an automated platform, you may have found the conversion process to be a drag. It isn't an easy thing to do. For that reason, we're happy to announce our IHC Leadership in Automation initiative. This rigorous validation initiative expands on our already thorough measures, allowing researchers to not only use CST products with our recommended manual IHC protocol, but also to bridge the assay to new platforms and techniques. Our foray into the world of automated IHC aims to reduce the amount of time researchers spend on assay transfer and protocol optimization.
CST Antibodies Validated for the Leica Bond Rx
To start, the automated IHC group is working on validation and optimization of our most popular cancer immunology antibodies on the Leica Bond Rx. We selected this particular platform based on recommendations from researchers who routinely use our products. We have made our first flight of Leica Bond protocols available on the appropriate product pages, complete with validated primary antibody dilutions, allowing you to quickly load them into the Bond software.
Once loaded into the software, a quick quality control check is all that is required for you to begin using a fully validated, automated IHC protocol in your lab. This is in contrast to performing full optimization on the Bond platform from scratch. It eliminates the need to cut dozens of slides, waste expensive ancillary reagents and primary antibody, and perform multiple staining runs to determine an optimal dilution. The IHC recommendation from CST provides you with industry-leading specificity and sensitivity, while the automated protocol lets you begin producing data sooner than ever.
Immunohistochemistry Leica BOND Protocol
Of course, in-house validation of over 700 IHC-approved CST products on the Leica Bond platform will not happen overnight. In the event that an IHC-approved product has not yet been tested or validated on the autostainer, we welcome you to contact us through our technical support channels. We will be happy to let you know if testing is underway or planned for a future date. If testing is not imminent, we can provide you with some tips and advice to perform a quick and accurate assay transfer in your laboratory.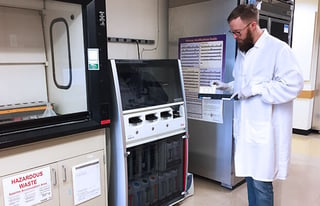 We also believe that our experience in the world of automated IHC will allow us to better engage with researchers using different autostainer platforms. We welcome those scientists to contact us through technical support as well, as often we have protocols and validation data from other customers who have successfully transferred an assay to another platform. If this is not the case, then our last line of defense is to search the literature for published protocols or at least provide some tips for validation on other platforms.
We are excited to have an autostainer in-house and look forward to providing you with more and more validated protocols for use on the Leica Bond platform. Our IHC team is always willing to help troubleshoot your manual and automated assays. We hope to make your use of CST's IHC-approved products as easy as possible so you can generate publication-quality data ASAP!