Boston is famous for the Red Sox, baked beans, and for having a distinctive accent. What you may not know is that it's also renowned for its thriving scientific community. With hundreds of colleges, biotech, and pharmaceutical companies in the Greater Boston area, what better location for Seeding Labs, a non-profit organization whose mission is to help talented scientists in developing countries to conduct life-changing research?
With help from the community, Seeding Labs provides scientists from around the globe with resources they need but might not have access to, including lab equipment, training, and access to key influencers in their field.
What is Seeding Labs?
CEO and founder Dr. Nina Dudnik earned her B.S. in Biochemistry from Brown University and a Ph.D. in Molecular Biology from Harvard University. She started Seeding Labs as a student group at Harvard after returning from a Fulbright Fellowship in the Ivory Coast. While she was in Africa, she worked with brilliant scientists whose research budgets were a fraction of a typical US lab. When she returned to Harvard, she saw perfectly good equipment that was sitting in hallways waiting to be disposed of because there was newer, nicer equipment available. She thought of her colleagues in the Ivory Coast who were hand-washing Eppendorf tubes in order to make the most of their research budgets and realized that there had to be a way to connect surplus resources to talented scientists who needed them.
Seeding Labs has been incredibly successful, having provided more than $3 million in equipment and fellowship training programs to university and research institutions in 24 countries. In fact, they were named #4 in the not-for-profit category of Fast Company Magazine's "World's Most Innovative Companies 2015."
To learn more about Seeding Labs, we asked Dr. Robert Lillianfeld, Director of Corporate Relations, some questions:
What has been your biggest challenge?
RL: We have found brilliant scientists in universities all over the world who are in need of quality equipment—to date, we've made 39 shipments to 27 universities in 24 developing countries. But right now the demand is far outstripping our capacity. There were 67 applications from universities around the globe for our 2016 Instrumental Access program, but we will only have enough equipment in 2016 to supply one-quarter of those universities with the equipment that they need. Right now the biggest challenge is to figure out how to maximize our impact with the resources that we have while continuing to grow and expand the number of scientists we're able to help.
What is the most rewarding thing to come from Seeding Labs?
RL: By far, the human stories we hear are the most rewarding part. We have the privilege to work with creative and resourceful scientists all over the world. Despite their limited access to resources, they nonetheless have the courage to do science with what is available to them. When we can upgrade their capacity by providing equipment that was previously out of reach, that's when it's the most rewarding. And the best part is, that impact keeps echoing with every paper they publish, course they teach, and student they train.
What are you most proud of?
RL: I'm going to go off script here—Nina would probably cite the work we did to help set up the second pharmacy department at a university in the entire country of Kenya, or the collaborations we have established between researchers in the US and abroad. A lot of that happened before I joined Seeding Labs last year, however. I'm certainly proud of those things; they are why I wanted to join the team here. But for me, personally, I'm most proud of how much we've grown and where we're going. From our founding until January 1, 2015, we have collected nearly 70 tons of surplus lab equipment from generous donors. This year alone, we've gotten nearly 25 tons of equipment. That's four good-sized elephants worth of equipment that is getting a second chance to contribute to science and innovation around the world! Next year we're aiming for 10 elephants worth.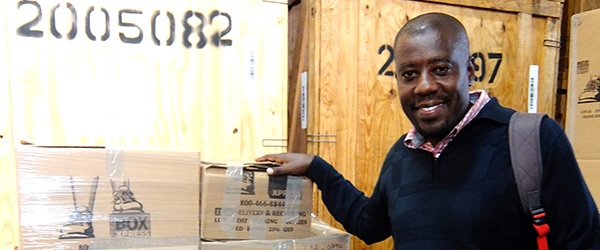 Masinde Muliro University of Science and Technology in western Kenya will receive a shipment of Instrumental Access equipment to be utilized by 26 faculty and their students in the Department of Biological Sciences. One of these scientists is Dr. John Muoma, whose research focuses on increasing food stability for inhabitants of the region.
Where do you see Seeding Labs going from here?
RL: Although we've been spending a lot of time talking about getting equipment to scientists in developing countries, we think that's just the first part of supporting scientific growth. We are very excited to continue our Instrumental Access program, but also to expand our work connecting scientists all over the world with their peers to facilitate an exchange of experience and expertise. We have done some amazing exchange programs in the past, and as both we and the universities we work with abroad continue to expand our capacity, the potential for making the "World of Science" a more interconnected place gets greater and greater.
Is there anything else we should know?
RL: Everything that we've done—all of the scientists that we've supported with all of the equipment that we've collected—has only been possible because of the generosity of the companies and individuals who support us. We don't buy equipment and we don't make a profit on any of our shipments. Thanks to the generous support of companies like Cell Signaling Technology, along with our financial donors, we are able to make the impact that we do. I think it's important for our supporters to recognize what a meaningful difference you are making in the lives of people all over the world.
So whether you're upgrading your PCR machine, getting rid of the HPLC set-up you don't use anymore, or cleaning out old consumables to make room in your supply closet, don't let them sit collecting dust, consider recycling them. Cell Signaling Technology has partnered with Seeding Labs since 2010 and has donated laboratory equipment including electrophoresis equipment, stir plates, and glassware, which has gone to support university departments in South America, the Caribbean, Africa, and South East Asia.
For more information about how you can make a donation or volunteer, visit Seeding Labs' website.
Dr. Robert Lillianfeld Biography: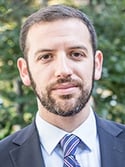 Robert works with Seeding Labs' corporate partners to set up donation and volunteer programs that fit best with their corporate social responsibility, sales, and marketing goals. These partnerships, in turn, help fulfill the equipment needs of Seeding Labs' Instrumental Access program.
In addition to experience as a research scientist, Robert has helped fellow scientists build their experimental setups as a sales engineer at Janis Research Company. Robert was a visiting scholar at Purdue University and a postdoc at the Francis Bitter Magnet Laboratory at MIT after receiving his PhD in experimental physics from Virginia Tech.
Cell Signaling Technology and Seeding Labs
As part of our commitment to corporate social responsibility, CST is proud to donate to scientists-in-need and give retired lab equipment a second life for research. Donations include essential items like electrophoresis equipment, water baths, vacuum pumps, thermocyclers, microscope accessories, freezers, and incubators. CST is a Yttrium Level equipment donor of Seeding Labs.
Learn more about our commitment to CSR by clicking below: