Researchers at the Malawi University of Science and Technology (MUST) exist in a constant state of emergency preparedness, always ready to jump into action. The sub-Saharan country of Malawi, Africa, has experienced multiple cholera outbreaks in recent years, largely driven by an increase in the frequency of hurricanes, cyclones, and tropical storms. Despite the country's land-locked status, it's all hands on deck at MUST when a storm hits. Clean drinking water is a fragile resource in the developing country, and the increasing number of severe weather events brought on by climate change can make the search for uncontaminated water more urgent.
Gama Bandawe, PhD, MUST Senior Lecturer and Head of the Biological Sciences Department, is no stranger to urgency. In 2019, tropical cyclone Idai started a cholera outbreak that lasted over a year. In March 2022, downpours, severe flooding, and mudslides caused by tropical storm Ana and cyclone Gombe reignited the outbreak. Tropical cyclone Freddy contaminated water sources again in 2023, causing the outbreak to become the deadliest in Malawi's history. During outbreaks, Dr Bandawe and his team have worked with various international organizations, including UNICEF and LIKA (an immunology lab from Brazil), and more recently, with the University of Louisville, to rapidly test water samples from public wells and wastewater to track and stop the outbreak's spread.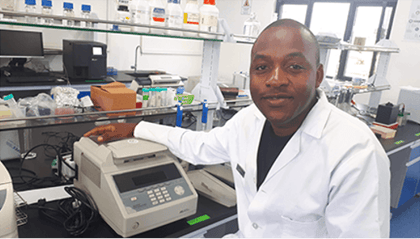 Dr Gama Bandawe, MUST Department of Biological Sciences. Image courtesy of Seeding Labs.
MUST's ability to conduct this important testing was a direct result of donated lab equipment. In 2019, a few months before Idai struck, MUST received its first shipment of over 5,000 lbs of equipment from Boston-based nonprofit Seeding Labs. Acting as a local partner to visiting cholera scientists, Dr Bandawe and his team used the equipment to rapidly identify contaminated water in test samples from across the country, helping to reduce the outbreak's spread.
"Like all scientists, we know the work we do [at MUST] is life or death," said Dr Bandawe in a lecture at CST headquarters in Danvers, MA, earlier this year. "Our programs are focused on addressing the increasing challenges of climate resilience. Witnessing events such as these have proven to us that we cannot wait, the time to act is now."
Seeding Labs, Seeding Hope
As CST scientists develop antibody tools to help researchers better understand and eradicate human disease, there's a question that's never far from the back of our minds: Are we doing what we can to help people in other ways—and the planet, too?
With climate change continuing to disrupt local weather patterns and sea levels rising, developing countries like Malawi are more at risk than ever from the spread of dangerous diseases. As part of our partnership with Seeding Labs, we're not only able to keep used laboratory equipment out of landfills, we're also helping researchers in developing countries gain access to much-needed resources.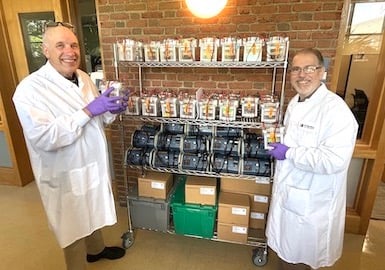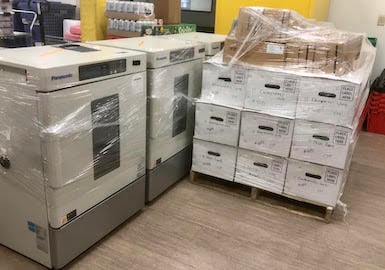 CST lab equipment is packed up by Joseph Ciardiello and Keith Anderson from the Lab Operations team in preparation for shipment abroad.
According to Seeding Labs CEO Melissa Wu, PhD, "Over 80% of the world's population live in countries with limited access to resources, and yet the majority—over 80%—of research funding is funneled to just 10 countries around the world. Seeding Labs exists to change that imbalance."
The non-profit collects lab equipment from high-income countries and redistributes it to labs in low- and middle-income countries. Since the organization's official launch in 2003, it has supported 147 institutions in 41 countries with an estimated $48 million worth of equipment. Annually, over 27,000 students are trained on equipment provided through Seeding Labs' programs.
Related: Sowing the Seeds of Research Success in Developing Countries
Recipients of equipment from Seeding Labs include universities such as MUST, where Dr Bandawe is helping to cultivate the next generation of scientists. "We would be in a very different and sad place if not for this equipment," Dr Bandawe explained to Seeding Labs. "It literally pushed us decades ahead in one fell swoop."
In addition to creating a more sustainable, closed-loop economy for lab equipment, MUST also benefits from scientist mentorship programs Seeding Labs helps to develop between awardees and donor organizations.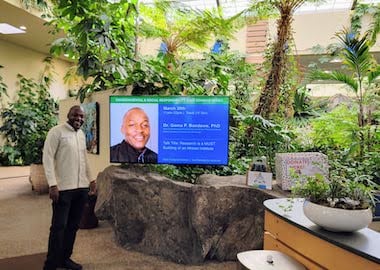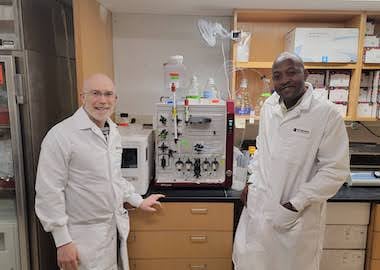 Left: Dr Bandawe in the atrium at CST headquarters before his talk, part of the Guest Scientist Seminar series for employees. Right: Dr Bandawe and Jeremy Fisher, Associate Director, Conjugation at CST, discuss lab equipment use and optimization at the CST headquarters in Danvers, MA.
As part of this scientist mentorship program, Dr Bandawe came to CST earlier this year to meet with and learn from CST scientists, and to teach us about the important programs taking place at MUST.
Dr Bandawe: "Research is a MUST"
MUST's climate change preparation and cholera mitigation programs are just one of many research initiatives at the university, which has set its sights on addressing a wide range of health concerns, including infectious and non-communicable diseases. The organization's research encompasses areas such as malaria, tuberculosis, non-malarial fever, zoonotic diseases, herbal medicines, and environmental health.
You can learn more about some of MUST and Dr Banadawe's research initiatives below.
COVID Response & Preparedness
MUST played a key role in Malawi's response to the COVID-19 pandemic. Using a PCR machine and biosafety cabinet provided by Seeding Labs in response to pandemic needs, MUST rapidly set up a local testing facility and become part of the global scientific research community for COVID-19 response. Dr Bandawe's team worked in partnership with the Mass General Brigham Center for COVID Innovation (MGBCCI) and other global partners on both Malawi's COVID-19 response and to provide insights and best practices for response efforts in other developing countries.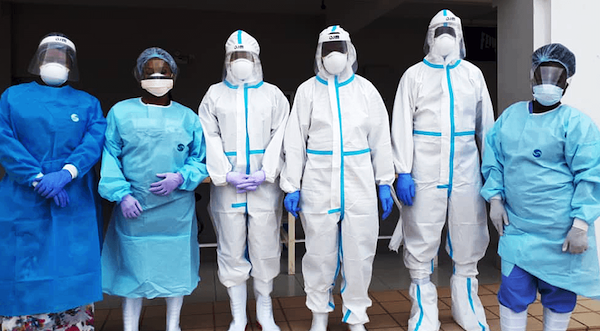 MUST scientists in full PPE during the early days of the COVID-19 pandemic. Image courtesy of Seeding Labs.
In addition to helping with the rollout of local testing sites in the initial months of the pandemic, MUST's research was used to assess the performance of lateral flow assays compared to PCR in a real-world setting. Specifically, the research looked at test accuracy and test site implementation in rural African villages with limited access to power and running water.1,2
Malaria Etiology: Not All Fever Patients Have Malaria
Dr Bandawe's current research focuses on the spread of febrile illness in Malawi, specifically around identifying the proportion of fever illnesses positive for malaria. Child mortality in Malawi is high, largely due to infectious diseases, which pose a serious threat to children under five. Without consistent access to testing, many presumed malaria cases in Malawi may be misdiagnosed and therefore, mistreated.
"Over the years, we've been looking at febrile illness and discovering that many fever patients are not actually associated with malaria," explained Dr Bandawe during his talk at CST. "Diagnostic antibodies have been able to show a huge array of respiratory illnesses in children, including some that have not previously been described. We're looking for biomarkers that can help us determine what these febrile illnesses are and help inform treatments."2,3,4
Currently, Dr Bandawe is continuing this research as part of a GloCal Global Health Fellowship at the University of California Global Health Institute. In partnership with the Chan Zuckerberg Biohub, the fellowship is bringing metagenomic sequencing technology to Malawi to better understand the causes of pediatric febrile illnesses.
Mbewa Virome Survey for Zoonotic Spillover Risk
Dr Bandawe's additional interests include studying viruses that have the potential for zoonotic spillover. "We know that rodents harbor all sorts of viruses and could be the cause of the next epidemic or pandemic," he explained to attendees of his talk at CST.
The collection of rodents, known locally as mbewa, has begun in southern Malawi, and sequencing and analysis of initial samples is starting. "We're trying to understand the viruses present in the species we've collected and which might have the potential for zoonotic spillover," explained Dr Bandawe.
The project will require additional lab equipment, which Dr Bandawe plans to partner with Seedling Labs to acquire. He also hopes to open a Malawi National Virology Center to train students in virological methods to enhance pandemic preparedness and response.
Donate Used Lab Equipment: How to Get Involved
CST has been donating equipment to Seeding Labs for over a decade, a commitment that aligns with many of our core values—moving scientific research forward, promoting sustainability, and supporting communities on a global scale. Our partnership with Seeding Labs allows us to be involved full circle and to learn about the inspiring work being conducted by scientists around the world.
In our most recent donation, CST provided nearly 100 gel systems and over 200 calibrated pipettes, which are in the process of being distributed to labs worldwide.
Do you have surplus equipment that's ready for an impactful second life? If it's in working condition and relevant to a biology or chemistry research lab, please consider donating it to Seeding Labs:
Select References
23-BCH-54900