Sustainability and giving back to the planet have always been an integral part of our DNA at Cell Signaling Technology (CST). And we recognize that you don't need to travel to a remote glacier or brave the wilderness to witness climate change with your own eyes–its effects are now being seen in our own backyards. As part of our commitment to sustainable practices, we focus on reducing our emissions, conserving resources, supporting environmental nonprofits, and promoting individual action. When we're not working in the lab, you'll often find us participating in the various environmental and community-focused volunteer programs hosted by our global offices.
Recently, our Massachusetts headquarters participated in a volunteer day with local nonprofit Salem Sound Coastwatch (SSCW), whose mission is to protect and improve the environmental quality of Salem Sound in Massachusetts and its watershed.
Thinking Globally, Acting Locally
SSCW facilitates scientific research and local monitoring of the Salem Sound Watershed, educates citizens to raise appreciation of natural resources, and engages with the public and private sectors to foster responsible management practices of environmental resources.
As part of our volunteer day with SSCW, local CST employees planted 800 salt marsh grasses on the shoreline of the Salem Sound to prevent erosion. Volunteers also removed invasive species to help restore the native habitat.
"The seas are definitely getting higher… and that means the tides are getting higher and the plants can't grow," explains Barbara Warren, Executive Director of the SSCW. As the newly restored salt marsh plants take root in the sandy soil, they will help create a barrier and protect the local community from the threat of rising tides and erosion.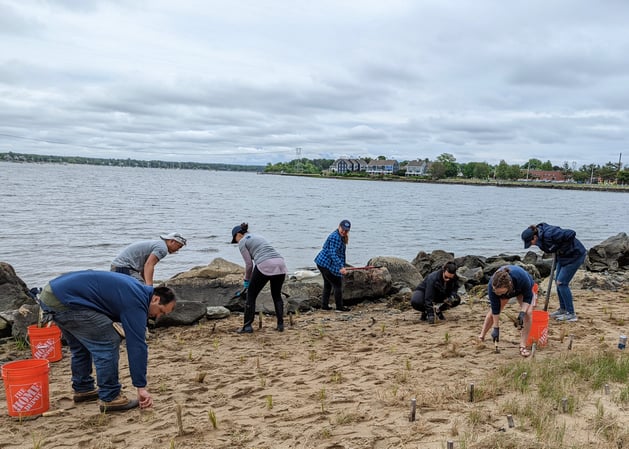 CST volunteers plant salt marsh grasses on the Salem Sound in Massachusetts.
"We know with climate change that we need to start preparing," continues Barbara. "This salt marsh, the living shoreline, is more resilient because actually just 30 feet of salt marsh will reduce the wave action as waves roll in… But there's so much land and there are so many projects that if we came out here, even three of us, we'd be out here for weeks!"
CST volunteers accomplished the day's goals within hours and participants walked away knowing their actions had an impact on mitigating the effects of climate change on a local scale.
CST is Committed to Sustainability
As scientists, we believe taking action at home and across the globe is needed to mitigate the climate crisis. We're proud to be setting an example in the life sciences industry and demonstrating what it truly means to create positive change for our planet by driving sustainability efforts in our operations, our local communities, and on a global scale. We also have an ambitious, science-based climate goal to achieve net-zero emissions by the 30th anniversary of our founding, in 2029.
This year, CST became the first Life Sciences company to join 1% for the Planet and commit to donating 1% of our total annual revenue to a network of environmental partner organizations. Naturally, we introduced SSCW to 1% for the Planet, and now the Salem Sound Coastwatch is one of their vetted environmental partners.
So when you purchase antibodies, kits, or services from CST, you can feel positive knowing that you're helping tackle our planet's most pressing environmental issues while doing your research.
Learn More: