Lymphoma is a cancer of the lymphatic system, a principal part of the body's immune system. Lymphoma most often arises from lymphocytes, including T lymphocytes (T cells) and B lymphocytes (B cells). There are dozens of types of lymphoma and they are broadly classified as either Hodgkin lymphoma or non-Hodgkin lymphoma (NHL). Treatment options and patient prognoses differ based on lymphoma type.1-2
B cell lymphomas make up approximately 85% of non-Hodgkin lymphoma cases in the United States. 1 out of 3 B cell lymphomas are classified as diffuse large B cell lymphoma (DLBCL), a more aggressive subtype of B cell NHL.1-3
Key Challenges for Diffuse Large B Cell Lymphoma Therapy
Currently, the standard regimen for DLBCL is R-CHOP – rituximab, a monoclonal antibody, with the chemotherapeutic agents cyclophosphamide, doxorubicin, and vincristine, and the steroid prednisone. It eliminates DLBCL in many patients; however, 40% of patients develop relapsed/refractory disease due to R-CHOP resistance. Prognosis is poor for these patients, with a median overall survival of 6.3 months. Thus, there is a significant need to develop efficacious therapies for these patients that can be used as an early treatment option and at the time of relapse.4
Targeted Therapy Approaches Against Key Diffuse Large B Cell Lymphoma Targets
Chronic B cell receptor signaling is required for the survival of most DLBCLs; thus, developing inhibitors to target components in this pathway is an interesting prospect. Additional dysregulated molecules being investigated as potential therapeutic targets include Bcl-2 and IRAK4 and molecules in the PI3K and NF-kB pathways.4
Btk inhibitors like ibrutinib initially exhibited promising results in clinical trials when treating refractory DBLBCs until patients develop acquired resistance, potentially through mutations in the Btk kinase domain. Thus, combination therapies using ibrutinib with other targeted therapies like venetoclax, a Bcl-2 inhibitor, or buparlisib, a PI3K inhibitor, are currently under investigation. Btk inhibitors are also being evaluated in combination with immunotherapies like pembrolizumab.4 However, a Btk kinase inhibitor cannot address any potential Btk kinase-independent function that could contribute to DLBCL progression and acquired resistance.
Rather than inhibiting Btk activity, another potential approach is to use PROteolysis TArgeting Chimera (PROTAC) technology to specifically degrade Btk. This approach affects both kinase-dependent and kinase-independent Btk activity and has demonstrated success relative to ibrutinib in preclinical models. Degrader technologies are also being explored for other DLBCL therapeutic targets including IRAK4 and BCL6.5
CAR-T Approaches Against Diffuse Large B Cell Lymphoma
Constitutive expression of B cell markers such as CD19, CD20, and CD22 have been observed in many B cell lymphomas, making them potential targets for CAR-T cell therapy. Currently, CD19 CAR-T therapy is approved for patients with relapsed or refractory DLBCL. Several other antigens are also being evaluated to provide additional treatment options for patients with DLBCL that develop mutations or downregulation of the CD19 antigen following CD19 CAR-T therapy. Potential CAR-T targets include CD20, CD22, CD30, CD37, and CD38. Finally, bispecific CAR-T cells that target multiple antigens provide a novel therapeutic approach. CD19/CD20-bispecific CAR-T cells have been synthesized to recognize and bind both tumor antigens, providing a dual-function treatment that can prevent tumor escape.6-7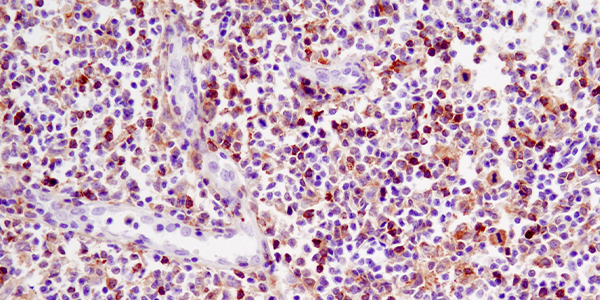 Btk (D3H5) Rabbit mAb #8547: Immunohistochemical analysis of paraffin-embedded human B-cell lymphoma using Btk (D3H5) Rabbit mAb.
Select References
National Cancer Institute,

https://www.cancer.gov/types/lymphoma

Memorial Sloan Kettering Cancer Center,

https://www.mskcc.org/cancer-care/types/lymphoma

American Cancer Society,

https://www.cancer.org/cancer/non-hodgkin-lymphoma/about/b-cell-lymphoma.html

Wang L, Li LR, Young KH. New agents and regimens for diffuse large B cell lymphoma. J Hematol Oncol. 2020 Dec 14;13(1):175. doi: 10.1186/s13045-020-01011-z.

Sun X, Gao H, Yang Y, He M, Wu Y, Song Y, Tong Y, Rao Y. PROTACs: great opportunities for academia and industry. Signal Transduct Target Ther. 2019 Dec 24;4:64. doi: 10.1038/s41392-019-0101-6

Marofi F, Rahman HS, Achmad MH, Sergeevna KN, Suksatan W, Abdelbasset WK, Mikhailova MV, Shomali N, Yazdanifar M, Hassanzadeh A, Ahmadi M, Motavalli R, Pathak Y, Izadi S, Jarahian M. A Deep Insight Into CAR-T Cell Therapy in Non-Hodgkin Lymphoma: Application, Opportunities, and Future Directions. Front Immunol. 2021 Jun 23;12:681984. doi: 10.3389/fimmu.2021.681984.

Kochenderfer JN, Dudley ME, Kassim SH, Somerville RP, Carpenter RO, Stetler-Stevenson M, Yang JC, Phan GQ, Hughes MS, Sherry RM, Raffeld M, Feldman S, Lu L, Li YF, Ngo LT, Goy A, Feldman T, Spaner DE, Wang ML, Chen CC, Kranick SM, Nath A, Nathan DA, Morton KE, Toomey MA, Rosenberg SA. Chemotherapy-refractory diffuse large B-cell lymphoma and indolent B-cell malignancies can be effectively treated with autologous T cells expressing an anti-CD19 chimeric antigen receptor. J Clin Oncol. 2015 Feb 20;33(6):540-9. doi: 10.1200/JCO.2014.56.2025.