I'm a Product Scientist at Cell Signaling Technology (CST). My typical work day no longer looks like my fellow scientists' daily grind, and at times, I even find it difficult to describe in words what I do, but I'll give it a shot!
My team and I oversee lot production of our ELISA products and assay kits. This includes the most obvious task of producing new antibody lots, but also inventory management, quality control testing and, most importantly, customer technical support. Did I just say technical support? Yep, I'm just as surprised as you are!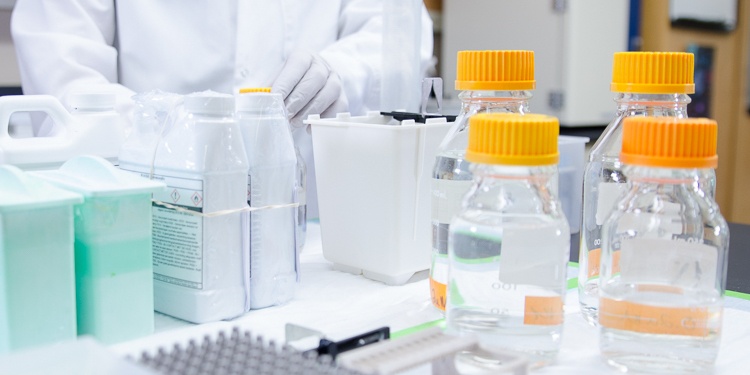 I have a background in cancer biology and worked as a researcher at Massachusetts General Hospital and Novartis prior to joining CST in 2017. Throughout my years at the bench, I had been a dedicated CST customer, utilizing antibodies to produce crucial decision-making data. CST was always the first supplier I checked, and if a product was not available, I'd cringe at the thought of my other options. At times, the availability of a reliable antibody for experiments could even determine the fate of a project.
Today I'm on the other side of the bench, and while I'm not necessarily performing the research, I do feel like I'm directly contributing in my own CST way. As product scientists, we have the unique experience of being interrupted by a phone call at any moment while in the lab, in a meeting, or grabbing a quick coffee. At times, we field calls from frantic customers in the middle of an experiment, unsure of how to proceed, and looking for any bit of advice or direction we can offer. This is when my job feels the most rewarding.
In hindsight, I should have made these types of calls throughout my years as a researcher. Instead of blindly scouring the web for references or purchasing the same product from other vendors, I could have just picked up the phone or filled out the web form, contacted technical support, and saved myself a lot of time and money. I struggled to find an antibody that worked for a particular immunoprecipitation (IP) project. I was unable to pull down the protein, despite trying every antibody that had been "approved" for IP. We would have weekly project status meetings, and I always dreaded delivering the bad news. There were also times where a reagent was stored at the improper temperature. We would panic that we potentially wasted time and money. Stability testing data would have helped me make those decisions on whether a reagent was still safe to use.
CST product scientists have performed countless western blots, IPs, ELISAs and cell assays in the process of optimizing and validating each product in our catalog. While we may not understand every detail of our customers' experiments, we do our absolute best to pass on suggestions based on our own years of experience at the bench and managing our products. Now that I've been behind-the-scenes, I understand why CST was my first stop for reagents. We care about our products, and we care about our customers and their results. As product scientists at CST, we may not have to write grants or publish as many papers, but we're motivated by the same goals and feel we are an important part of this community of researchers.