Every summer, the scientific community waits with bated breath for CiteAb to reveal the 100 most cited research antibodies of the past year. By mining a database covering nearly 8 million antibodies from more than 300 suppliers, with over 4 million verified product citations, CiteAb provides insight into general market trends, as well as trends within specific research areas and applications.
From an antibody manufacturer's perspective, placement on the CiteAb list shows that researchers trust and value its products. And, for researchers, the annual CiteAb report highlights leading antibody vendors from which they may wish to purchase future reagents.
Cell Signaling Technology Leads CiteAb's 2022 Ranking
CiteAb's 2022 analysis shows Cell Signaling Technology has maintained a leading position as the vendor with the most antibodies in the top 100. This figure now stands at 36, an increase of one over 2021, which is double that of the second most cited supplier.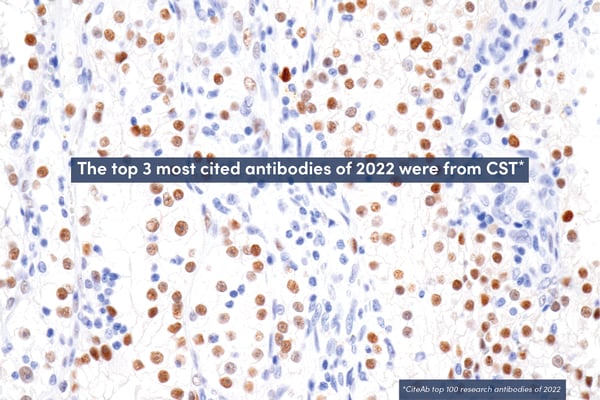 Non-Support Antibody Products Set Us Apart
A deeper dive into the CiteAb data shows 6 of the top 10 most cited antibodies are CST products, as well as over half of the top 25, and 23 of the top 50. We're incredibly proud of this achievement, and it's something we continually strive to build on through our commitment to developing highly specific, rigorously validated antibodies for emerging and active areas of investigation.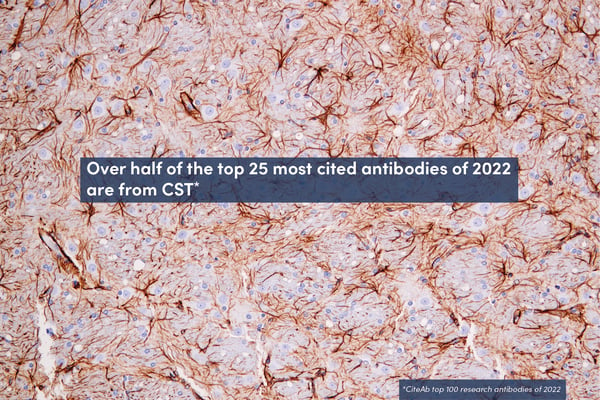 Yet, while the numbers alone are a testament to our success, what really sets us apart is how many of our top-ranking antibodies are non-support products. Of the 36 CST antibodies that feature in the top 100, just nine of these are laboratory staples such as secondary antibodies, loading controls, or anti-tag antibodies. The remaining 27 are primary antibodies spanning diverse research areas. This is nearly four times as many non-support products as the second most cited vendor. We are also excited to share that 9 of the 10 most cited primary antibodies on the CiteAb list are CST products, emphasizing our resolve to advance scientific research.*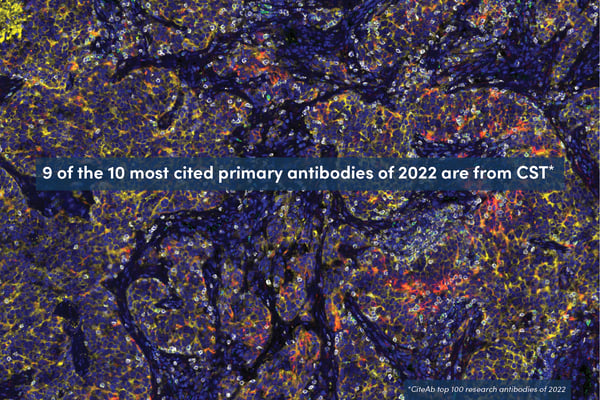 "The fact that the majority of our top-cited products are primary antibodies demonstrates our commitment to enabling scientific discoveries beyond commoditized support reagents," says Samuel Jensen, Global Strategic Marketing Manager, Biopharma. "Because we are a scientist-founded, scientist-led company, we truly understand what our customers need to advance their research."
*CiteAb: "What were the top 100 research antibodies of 2022?" July, 2023. Excludes common loading controls.
Stringent Validation Principles
Our predominance on the CiteAb list year-over-year is largely attributable to our stringent validation principles and practices. Notably, we validate each of our antibodies in an application-specific manner, since we discovered early on that performance in one application does not guarantee performance in another.
When planning how an antibody will be tested in an application, we adhere to the Hallmarks of Antibody Validation™, six complementary validation strategies that can be used to determine the functionality, specificity, and sensitivity of an antibody in any given assay. This involves carefully tailoring which of these strategies are applied to each product based on factors including the biological role of the target, the application and protocol being used, and the availability of appropriate testing models; we use the Hallmarks of Antibody Validation as a toolbox from which we choose the most effective and relevant experimental approaches to determine the specificity and performance of the antibody in each of the tested applications. By applying this approach, we ensure that our antibodies are specific and deliver reproducible results. Additionally, all of our antibodies are covered by the CST Product Performance Guarantee to safeguard their optimal performance in validated applications.
Scientists who choose CST antibodies trust that they will perform as expected in their intended assays, the first time and every time.
Future Perspectives
For us, these observations indicate that we must stay closely attuned to researchers' changing requirements if we are to continue leading the way when it comes to developing best-in-class products. Fortunately, this is something we excel at. Consider our roots in cellular signaling, for example. CST was founded in 1999 when Michael J. Comb, our CEO and co-founder, identified a critical need for highly validated antibodies to study cellular signaling events. Fast forward to today, and we have become the leading antibody vendor in this area, with many of our top-cited primaries on CiteAb's list being signaling antibodies. And, after identifying ways that CST products could help immunology researchers accelerate their paths to discovery, we have been pleased to see three antibodies from our immunology list make it onto the CiteAb list:
As we continue on our mission to advance science, our intention is to build on our success and claim an even bigger share of the 2023 CiteAb top 100. Critically, this will involve investing further time and resources into growing our primary antibody portfolio.
23-bch-72050 CiteAb
23-CAN-85595
dk
G06