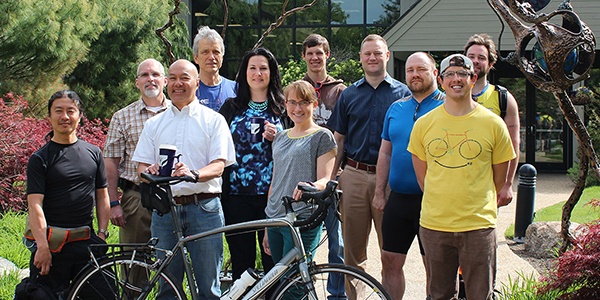 "A two hour plus commute by bike, you've got to be kidding!" The sentiment was echoed among friends and colleagues. The last thing anyone wants to do is extend his or her commute by an extra hour each way! Plus when you factor in an urban route and several "rotaries of death," it doesn't help make the argument for biking from Boston to Beverly any easier. However, folks at CST still take the Mass Commute Bicycle Challenge very seriously.
As a mid-sized biotechnology company on the North Shore, cycling enthusiasts, at CST, come together each year to defend our legacy against the some of the big players of Boston and Kendall Square.
For the past several years, CST has earned a place in the top three among companies with fewer than 500 employees for the most miles logged statewide. As a company that provides cash incentives and bonus holidays for taking alternative transportation to work, it comes as no surprise that CST places as well in this informal competition.
It's pretty clear that CST loves biking. From the executive board down to our summer interns, CST employees are long-distance road racers, weekend warriors braving mountain bike trails, and commuters zipping through seaside routes on the north shore of Boston. This passion isn't just limited to US facilities, many of our Netherlands-based employees in our European office cycle to work everyday; it's too bad we can't add their miles to our total!
The premise of "Bike Week" is a competition for companies, communities and individuals to compete among one another to log the most miles cycling to work or after hours. In this manner, Bike Week challenges folks to "think beyond the steering wheel" and take exceptionally long commutes, or rack up miles after work or on weekend rides.
Last year CST's team, the "Cell Cyclers," logged a whopping 2,691 miles and placed second for companies of our size. Some of our best riders were unable to compete with us this year, so in order for CST to hold our own, we had to step up to the plate and consider how to maximize miles with fewer riders. This meant extra weekend rides, taking the "long" way to work for local riders, and for some, making a commute of 24 miles or longer each way.
So what does biking to work everyday feel like? Let's turn to a personal account. Bike commuting is how I get to work everyday (in conjunction with the MBTA commuter rail) and my daily miles are between 13-15 miles year round. I've got snow tires and raingear for the winter, and bike shorts and cutoff tees for the summer. Before the start of bike week, I had my sights set on maybe completing two legs of the Boston-Beverly haul. However, the tight competition in our category with Boston area architecture firms (at some points a fraction of a mile, see photo) convinced me to make the full trek three days in a row to add an additional 150 miles to the CST total. There's no way to sugar coat it, but twelve hours in the bike saddle makes you sore and drained for any post-work activity save for a healthy dose of carbs and couch time. Although I managed to hold onto the top of the CST leaderboard with a total contribution of 212.5 miles, I began the week with a significant deficit and there was friendly competition among the "Cell Cyclers" all week. But I certainly wasn't alone, CST roped in support from first-time bike commuters as well as a senior scientists, and a self-described "rusty" cyclist who met me early one the morning for a twenty-mile leg of the commute from a suburb outside of Boston.
Nonetheless, CST's "Cell Cyclers" made an amazing showing, and even with fewer riders this year we were able to log 1,990.4 miles, which put us in third place for companies with fewer than 500 employees! In an effort to help riders from CST "get in the saddle again," we offered free on-site bicycle tune-ups with a licensed mechanic to make sure everyone was safe and ready to ride. As an additional incentive, CST's sustainability department offered double "green points," for each day of bike commuting during the challenge to make it easier for employees to earn bonus holidays as a reward for taking alternative transportation.
All in all, Bay State Bike Week and the Mass Commute Bicycle Challenge is a great event to promote cycling and build community spirit. CST is looking forward to Bike Week next year where we hope to break the 2,100 mile mark!
Click below to learn more about alternative transportation and other sustainability measure at CST:
See all the results from the Mass Commute Bicycle Challenge at www.masscommutebicyclechallenge.org